Phoenix School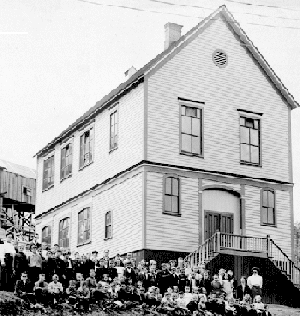 Phoenix was a mining boom town that came into existence with the discovery of copper in the late 1890s. In 1899 the first school was opened in a log cabin built by Judge J. R. Williams on land owned by the Dominion Copper Company. In 1900 a new two-room wood-frame school was erected in response to the rapidly growing population. Because of the growth, Phoenix was classified as a City School District (3rd Class) by the Department of Education.
The population of Phoenix continued to increase and in 1911 a new four room school, built at a cost of $16,000, was opened. At the start of the First World War, the school accommodated almost two hundred students. Soon after, however, the city's copper mines were played out and the school population plummetted. Two of the school's four divisions were cancelled in 1919 and in 1920/21 the entire school was closed.
Source:
Alice Glanville, Schools of the Boundary: 1891-1991 (Merritt, B.C.: Sonotek Publishing Ltd., 1991).
Image: British Columbia Archives
Call No. B-01421
Cat. No. HP029684
Photographer: Not Identified