Edward Graham Alston
1832 - 1872
Colonial politician, barrister, civil servant, and school administrator.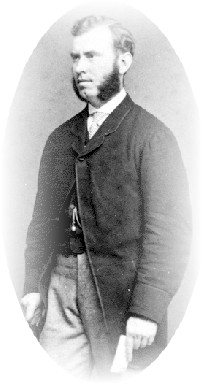 Edward Graham Alston was born on 6 September 1832 at Cambridge, England, second son of the Reverend George Alston and Anne Charlotte Oxenden. He was educated at St. Paul's School, London, and at Trinity College, Cambridge (B.A., 1855). He trained as a barrister and was called to the bar at Lincoln's Inn in 1857.
Alston was admitted to the bar of Vancouver Island on 15 June 1859, just a month after he arrived in the colony via the Isthmus of Panama. He was a member of the Legislative Council of Vancouver Island in 1861 and 1862 and held various executive posts, including Registrar of Deeds for Vancouver Island (1861-1866).
Following the union of Vancouver Island and British Columbia, Alston served as Commissioner of Savings Banks, Registrar of Joint Stock Companies, and Registrar General for the Colony of British Columbia. He was British Columbia's Attorney-General from May to August 1871, at a time when the colony was preparing to enter Confederation with Canada.
He served in the local militia during the time of the Fenian scare in 1866, and in 1868 joined an exploring party which crossed Vancouver Island from Nootka Sound to the east coast. Mt. Alston, at the head of the Nimpkish River on Vancouver Island, commemorates his journey.
A member of the Church of England, Alston was active in parish affairs in Victoria and New Westminster. He helped to establish a freemason's lodge in Victoria and served on the executive of the Mechanic's Literary Institute in that city. His own literary work was descriptive and included a detailed article entitled "Historical and political summary for ten years - 1858-1868," published in Report of the Columbia Mission, 1868 (London 1869). Alston's essay was reprinted as A hand-book to British Columbia and Vancouver Island (London: 1870).
Alston was a member of the General Board of Education of Vancouver Island from 1865 to 1869. On 6 May 1870 he was appointed Inspector-General of Schools for the Colony of British Columbia, a position created by the Common Schools Ordnance Amendment of April 1870. Alston's duties were to inspect and report on the "management, character, efficiency and general condition" of the public or common schools in the Colony. He was also responsible for approving the qualifications of teachers and for ensuring that they conducted their classes in accordance with the Rules and Regulations for the Management and Government of Common Schools. First published in the Government Gazette on 28 May 1870, the Rules and Regulations set down hours of instruction, vacation periods, teachers' duties and prescribed text-books.
The Rules and Regulations of 1870 reaffirmed the non-sectarian character of colonial schools [as established in the Common School Act, 1865 ] by stating that "no person shall require any pupil to read or study in, or from, any religious book, or to join in any exercise of devotion or religion objected to by his parents or guardians." The instructions laid down by Alston continued to form the basis of the Rules and Regulations of the Public Schools of British Columbia long after Confederation.
Although Alston was an efficient school administrator, and while he favoured a relatively democratic educational system, he had little sympathy with populists such as Amor de Cosmos who championed responsible government and Confederation with Canada. Alston opposed both initiatives. In August 1871, shortly after British Columbia concluded terms of union with Canada, he quit Victoria to become Queen's Advocate in the colony of Sierra Leone, in West Africa. There he served as a member of the Legislative and Executive Councils and for several months was acting governor. But his career was cut short. Alston died in Freetown, Sierra Leone of "African fever" on 12 November 1872. He was forty-one years of age.
Alston was predeceased by his wife Elizabeth Caroline Abbott. The two had known each other in England and she had travelled to Victoria to wed Alston on 2 September 1861. She died in Victoria in 1865, after giving birth to their second child. Alston married a second time in 1868 to Anna Maria Tuzo, the sister of a medical doctor in Victoria and by whom he had three children.
Alston was a friend of many prominent citizens in Victoria, including Peter O'Reilly. Point Ellice House, O'Reilly's home on the Gorge waterway, was the centre of the city's socially polite, but politically conservative, faction. Alston was a frequent visitor. His name is commemorated by Alston Street, situated near the western approach to the Point Ellice Bridge, across the water from historic Point Ellice House in Victoria.
Image:
British Columbia Archives HP-004746
References: Dorothy Blakey Smith, "Edward Graham Alston," Dictionary of Canadian Biography, Vol. 10; British Columbia Archives, "Vertical Files."