Ruiter Stinson Sherman
1865 - 1941
Teacher, school administrator, surveyor, mountaineer, naturalist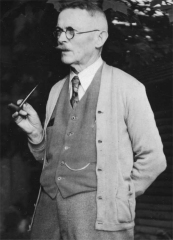 ---
Ruiter Stinson Sherman was born in Youngstown, Ohio, of English parents. Before Ruiter was ten his family moved to Ontario, where he finished his schooling. After qualifying as a Civil Engineer and Dominion Land Surveyor, he travelled west to British Columbia in 1891 where he did survey and engineering work 'around the province.' He married Nellie Sage in 1892, and their first child, Walter Camdon Sherman, was born in 1893. In 1900 his daughter Maud Rees Sherman was born.
Ruiter started teaching school at Port Moody in 1895, and then at the New Westminster Boys' School in 1896. Following a trip to the east, he taught in Mission City, B.C. in 1899. He obtained a First Class Teacher's Certificate in 1903. In 1905 he taught at Mount Pleasant School in Vancouver, followed by a year at Lord Roberts in Vancouver's West End. In 1907 he was promoted to Principal of Admiral Seymour Elementary School in Vancouver's East End, a position he held for the next twenty-five years until his official retirement. In addition to his position as Principal, he continued to teach classes.
His love of the outdoors continued all his life, and during his years at Admiral Seymour School he was also heavily involved in many early groups in Vancouver, including the B. C. Mountaineering Club, Vancouver Natural History Society, B. C. Art League, Burrard Field Naturalists' Club, Pioneers' Association, and the Art, Historical & Scientific Association of Vancouver.
Ruiter started publishing articles as least as early as 1913: "The Mountaineer As An Entomologist", in The Northern Cordilleran. In 1919 he began contributing nature stories to a new little periodical written for British Columbia school children and published in Vancouver - School Days magazine. Already trained to draw as a surveyor, he began to illustrate his stories with pen and ink drawings. Between 1919 and 1930 he published well over 125 stories in School Days magazine alone, many of them also illustrated by his daughter Maud. In 1924, he put together a compilation of those stories and some new ones in Mother Nature Stories, published by J.M. Dent & Sons. The book was illustrated by himself, Maud, and Arthur Rackham.
Four years later Dent published another compilation of his stories in Wild Folk and Their Ways. The same year, Ruiter and fellow Principal Elmer W. Reid (Franklin School) co-authored The Canadian Industrial Reader, a completely new book, also from Dent. In the next few years Ruiter helped write numerous workbooks, reading exercises, and silent study readers, all published by Dent. In addition to E. W. Reid, his co-authors included J. E. Brown, H. H. Mackenzie, R.P. Steeves, and T. W. Woodhead - among them a provincial inspector of schools and other school principals.
In 1927 he was listed as a School Supervisor in the Vancouver Directory. During the 1920s and 1930s Ruiter gave numerous natural history lectures, led bug, bird, and geological field trips, and published articles of a more technical nature in periodicals such as Museum & Art Notes.
Retiring from Admiral Seymour School in 1932, he continued to write textbooks - including Nature and Language Workbooks with E. W. Reid, 1934 (3 volumes), illustrated by Maud. His volunteer activities continued with a passion, and he was variously President, Vice-President, Auditor, Director, Representative, and Chairman of one or another of many groups and committees. He was a well known entomologist, collected books and stamps, loved to draw and paint, took glass plate photographs, studied birds, enjoyed the arts, theatre, and music, and always had pets.
Some of his books were reprinted many times after his death in 1941. A few short stories and illustrations were selectively reprinted in later schoolbooks -- including Happy Highways 4 and Young Explorers -- all through the 1950s and at least as late as 1962. Perhaps there is no more fitting a tribute to such an interesting and accomplished man: that after more than thirty years of teaching, his stories carried on teaching for another thirty.
---
Researched and written by Gary Sim, Vancouver, British Columbia, May 1999
References (provided by the author) "include, but are by no means limited to:"
British Columbia. Vital Statistics, Victoria, B. C.
Admiral Seymour School records, Vancouver, B. C.
Museum & Art Notes, published by the Art Historical and Scientific Association of Vancouver
Museum Curators' reports, published by the Vancouver Museum
B. C. Art League fond, Vancouver City Archives (VCA)
Vancouver Natural History Society fond, VCA
School Days magazine, 1919 -- 1930, Vancouver Public Library and VCA
Mother Nature Stories, 1924, published J.M Dent & Sons, [available in University of British Columbia Library, Special Collections Library]
Silent Study Readers, (three volumes of six), 1925-26, published J. M Dent & Sons, [available in University of British Columbia Faculty of Education Library]
Nature & Language Workbook (Junior), 1934, published J.M. Dent & Sons, courtesy National Library of Canada
Memorium in Vancouver newspapers at time of death