"Your Job" - 1957 School Radio Broadcast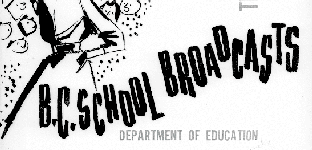 This British Columbia school radio broadcast was entitled "Your Job." It aired on 14 January 1957 and was the first in a series entitled "Jobs in General." The British Columbia Department of Education, working with the Canadian Broadcasting Corporation, produced the program in order to educate high school students on the importance of career planning. This program is a good example of the kind of work produced by the Department's School Broadcasts division.
During the 1950s, British Columbia's economy was booming and there were lots of job opportunities for young people. However, high school students were urged not to settle for just any job. Rather, they were encouraged to stay in school and prepare for a job best suited to them.
This first audio segment introduces R. L. W. Ritchie, Chief Personnel Officer for British Columbia Civil Service. He is interviewed in Vancouver by program host, Mrs. Sally Creighton, who is "armed with questions sent by high school students from all over the province." Ritchie answers their questions and informs listeners about the abundant amount of information available to them.
This second audio segment explains how students could obtain information about various jobs and occupations. Ritchie identifies two publications - the Dictionary of Occupational Titles and the Occupational Outlook Handbook. These books would also help students assess their aptitudes and interests, Ritchie says. The job dictionary was available from school counselors and school principals, and in libraries, School Board offices and the National Employment Service in Vancouver. Ritchie mentions that information about jobs in the public service was available from Government Agent's offices throughout the province.
This third audio segment lists some of the job interests of both male and female students. It's interesting to compare the career goals of boys and girls in the 1950s. Boys were most interested in jobs related to engineering and forestry, while girls were interested in so-called "human engineering" occupations -- that is, nursing and teaching.
This fourth audio segment addresses important aspects of job selection. Listeners are advised to consider issues such as working conditions, salary, and benefit packages when selecting jobs. Students are also reminded that their personal appearance and behavior are important factors in landing a good job. Ritchie says that applicants must demonstrate to an employer what the applicant will put into the job and not what he or she wants to get out of it. Ritchie doesn't want students to simply drift into jobs, but rather to select jobs that they will enjoy.
This fifth audio segment concludes this informative interview with some final thoughts on the important issues concerning student career planning. Mr. Ritchie says:
Boys and girls who know what they want to do should get all the information they can about ways of reaching their goals and should try to be honest in appraising their chances of getting there. Boys and girls who are undecided should take the trouble to get a good deal of information about different opportunities. Don't drift into the nearest job, I can't stress that point too often, and if you must begin with what you don't want or if you're not satisfied after giving the work a fair trial, never forget that there are other possibilities and a good many ways in getting further training. Find out!
This broadcast was part of the Department of Education's new emphasis on vocational guidance. Programs like these were the predecessors of present day programs, such as Career and Personal Planning. Now, schools use computers rather than radio receivers to emphasize the importance of choosing and planning for a career. But the ideas are still very similar to those conveyed by school radio broadcasts in the 1950s.
---
This summary was written and researched by Camila Bhandari and David Kinsella, History 349, Malaspina University-College, April 2001. Digital excerpts from "Your Job" were selected by them and were copied with the assistance of Mary O'Neill, Curriculum Lab technician, at Malaspina University-College.
---