St. Ann's Schoolhouse, Victoria, B.C.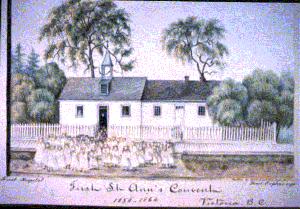 The central part of this building is a log cabin, constructed in the mid-1840s by a French Canadian employee of the Hudson's Bay Company, Jacques Laquechier. In 1853 the building was purchased from the Hudson's Bay Company by another French Canadian, Leon Morrell, who sold it to Bishop Modeste Demers for $500 in 1858.
Earlier, Bishop Demers had called on the Sisters of St. Ann, a Roman Catholic order based in Montreal, to assist him in establishing a school and a hospital in Victoria. A party of four Sisters of St. Ann reached Victoria in the summer of 1858 and shortly afterwards they opened their school in the log cabin Bishop Demers had purchased from Morrell.
Although intended primarily for the benefit of the colony's Roman Catholic children, the school also welcomed children from the Protestant community. The daughters of James Douglas attended the school when it first opened.
St. Ann's School flourished, but the school building was soon overcrowded. In December 1859 it was augmented by a Select School located on Broad Street in Victoria and in September 1860 by a brick building on View Street. For a brief period, in 1863-1864, the log cabin on Humboldt was used as a dormitory for pre-school age boys. In 1871 classrooms and dormitories moved into a handsome four-storey brick building known as St. Ann's Academy. Extensively refurbished in 1997, St. Ann's Academy is now the "headquarters" of the Ministry of Advanced Education.
St. Ann's schoolhouse has also been restored and is used as an interpretive centre for school heritage programs. It is located in Heritage Court, next to the Royal British Columbia Museum in Victoria.
---