Craigflower School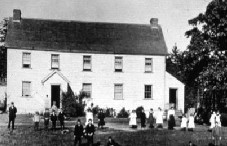 Craigflower School was opened in 1855. The school was originally intended to serve families employed by the Puget Sound Agricultural Company at Craigflower Farm, a few miles from Fort Victoria.
A web site relating to Craigflower Farm was created as part of collaborative project between Canada's SchoolNet and the British Columbia Heritage Properties Branch. This site includes several pages - aimed mainly at elementary school pupils - on Craigflower School. To access the Teaching, Learning & Farming at Craigflower site, click here.
This web site also includes authoritative biographical sketches of the first three teachers at Craigflower School -- Charles Clark, Henry Claypole, and Thomas Russell. These sketches were thoroughly researched by Judith Stricker, using archival records and other primary documents. The sketches are accessible through a page entitled Craigflower Resources.
Three schools have carried the name Craigflower. The original school, shown above, operated til 1911. It was replaced by another school building, located across the road from the old school house. That building was demolished and replaced by the present-day Craigflower Elementary School (1963).