North Ward School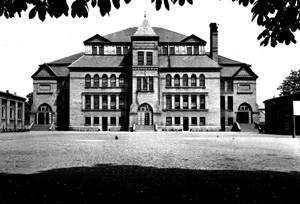 Location: Victoria
Date of Construction: 1894
Architects: Messrs. Soule and Day
Victoria experienced rapid population growth in the early 1890s. In order to meet the need for more classroom space, the Victoria School Board embarked on a major building project. The project was facilitated by an 1893 Educational Loan By-Law, which provided the board with a generous amount of money for capital expenditures.
Two building sites were purchased at a cost of $7,500 each. On one of the sites, near Beacon Hill Park, the board erected South Park School. On the other site -- close to Humber Green, near the intersection of Hillside Avenue, Douglas Street, Government Street and Gorge Road -- the board erected North Ward School. The commission for North Ward School was awarded to a local architectural firm, Soule and Day.
The twelve room elementary school was completed in the autumn of 1894 at a cost of $30,000. It was an imposing structure, consisting of a tall central block with a formal entrance and two flanking wings, with separate doors for boys and girls. In 1912, a manual training annex and a domestic science annex were added to the school site. Both annexes were constructed of brick.
North Ward School was a familiar Victoria landmark and remained virtually unchanged for nearly seventy year. It was known not only to three generations of children, but also to motorists who had to negotiate another distinctive Victoria landmark, the Fountain Circle or "Roundabout" which regulated traffic around Humber Green. Both North Ward School and the nearby Roundabout were demolished in the 1960s.
Source:
Doug Franklin and John Fleming, Early School Architecture in British Columbia (Victoria: Heritage Conservation Branch, 1980).