Emma Staines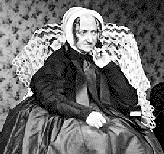 Emma Frances Staines, née Tahourdin, arrived at Fort Victoria, Vancouver Island, with her husband the Reverend Robert John Staines on 17 March 1849. Unfortunately, little is known about Mrs. Staines before or after she resided in Victoria. She was born in Ireland, where she met her husband, who commenced his career as a private tutor in Gorey, County Wexford. She and Staines married in 1846. Mrs. Staines was an Anglican; she was well-educated, was proficient in music, spoke French fluently and could read Italian and German.
She and her husband were operating a private school at Boulogne-Sur-Merin in France when they received word that Mr. Staines had been appointed as chaplain and schoolmaster for the Hudson's Bay Company settlement at Fort Victoria. Under the terms of the appointment, Mrs. Staines was to teach the girls who enrolled in the Company's school and to act as matron to students who boarded at the school.
Mrs. Staines was described as being shrewish and snobbish. She did not like the Scottish fur-trading families at Fort Victoria and she did not get along with Amelia Douglas, the mixed-blood wife wife of Chief Factor James Douglas. According to Dr. J. S. Helmcken, Mrs. Douglas "and Mrs. Staines did not chum at all -- there being too much uppishness about the latter..." However, Mrs. Staines was highly regarded as a school teacher. Dr. Helmcken recalled that she really was the best schoolmistress ever seen...in Victoria -- she kept the girls in order -- took them out -- saw that they were properly and neatly dressed -- carried themselves properly and paid much attention to deportment and was really good to the girls, altho the latter did not like the change and her strictness. James Douglas wrote "She [Mrs. Staines] is invaluable and receives less assistance than she ought from her husband, who is rather lazy at times."
The Company School which the Staines conducted was located in a portion of the Bachelors' Hall inside the fort. One of the first pupils to attend the school as a boarder, James Robert Anderson, described the matron as follows:
Mrs. Staines was a much more energetic person, she it was who really kept the school going and in spite of many undoubtedly adverse circumstances managed comparatively most credibly. I can see her now in my mind's eye, with a row of curls down each side of her angular face; by no means unprepossessing however, spare figure, clad in black, a lady undoubtedly, and when walking and holding out her skirts on each side and ordering the girls to follow her example.
However, the indomitable Mrs. Staines was not infallible. Dr. Helmcken tells an amusing story of a salad supper hostessed by Mrs. Staines. She inadvertently used castor oil for salad oil, with her guests experiencing predictable results.
Mrs. Staines was widowed in February 1854: her husband drowned when the ship he was travelling on foundered in the Strait of Juan de Fuca off Cape Flattery. Mrs. Staines sold their assets and boarded with an English family. Although Mr. Staines had been dismissed from his position as H.B.Co. chaplain and schoolmaster prior to his death, Governor Douglas arranged for the Company to provide free passage back to England for Mrs. Staines, her adopted son, and servant. She departed for England on 16 January.
A small islet off the north-east shore of Cadboro Bay near Victoria is named in her honour, but unfortunately the islet was misnamed "Ellen Staines".
---
Written & researched by Robena Wade, History 350, Malaspina University-College, December 1997
Sources:
Gregson, Harry. A History of Victoria 1842 - 1970, Victoria, B.C.: Morriss Printing Company Ltd., 1970.
Helmcken, John S. The Reminiscences of Doctor John Sebastian Helmcken. Ed. Dorothy Blakey Smith. Vancouver, B.C.: University of British Columbia Press, 1975.
Johnson, F. Henry. A History of Public Education in British Columbia. Vancouver, B.C.: University of British Columbia Press, 1964.
Pethick, Derek. Victoria: The Fort. Vancouver, B.C.: Mitchell Press Limited, 1968.
Woodcock, George. British Columbia: A History of the Province. Vancouver, B.C.: Douglas & McIntyre, 1990.