Fort Victoria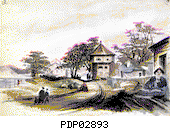 Fort Victoria was founded in 1843 by the Hudson's Bay Company. It was the capital of the Colony of Vancouver Island (1849) and was incorporated as a city in 1862.
After a tussle with its mainland rival, New Westminster, the City of Victoria was named capital of the "united" Colony of British Columbia in 1868.
Victoria is beautifully situated and its location has always impressed visitors. Upon first seeing the site James Douglas rhapsodized: "The place itself appears a perfect 'Eden,' in the midst of the dreary wilderness of the Northwest Coast, and so different is its general aspect from the wooded, rugged regions around that one might be pardoned for supposing it had dropped from the clouds to its present position."
An informative and entertaining web site devoted to the Hudson's Bay Company and the early days of Fort Victoria was created for a SchoolNet project in 1997. The web site features maps, historical photographs, and biographical sketches of H.B.Co. officials and pioneer settlers. Click on this link to tour the Fort Victoria SchoolNet site. (To return to The Homeroom, use the "Back" arrow button or Bookmark this page.)
To visit other historical sites in the Victoria area, check out the Home Page of the Heritage Branch of British Columbia's Ministry of Small Business, Tourism and Culture.