School and Community Drama, 1936-1954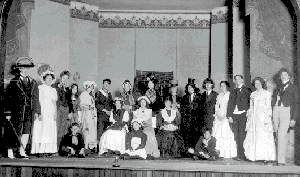 British Columbia Archives G-03730
School and Community Drama was established as a subsection of the Adult Education Division of the Department of Education in April 1936. The branch helped organize local drama festivals and provided scripts and theatrical equipment for use in provincial high schools.
The objectives of the branch were not simply to promote drama at the school and community level. Like Pro-Rec, it was intended as a means of alleviating the demoralizing effects of the Depression by providing healthy recreational activities, by fostering a spirit of co-operation, and generally by encouraging what contemporaries called "mental hygiene".
The officer responsible for School and Community Drama was a flamboyant character, Llewelyn Bullock-Webster (1879 - 1970). Bullock-Webster emigrated from Britain to B.C. in the early 1900s. After spending a few years in Prince Rupert, he settled in Victoria where he opened a private acting academy with an official sounding name, the B. C. Dramatic School. In the mid-1920s he produced several of his own plays, one of which was entitled The Curse of Chirra Poonge.
In 1936 the Minister of Education, Dr. G. M. Weir, appointed him Organizer of School and Community Drama. Over the next ten years, Bullock-Webster travelled extensively, organizing regional drama festivals, assisting little theatre groups, and promoting extra-mural drama programmes in provincial public schools.
Bullock-Webster was superannuated in 1946 and was succeeded by H.S. "Bunny" Hurn, a Victoria school principal who had founded the highly-acclaimed Greater Victoria Schools Drama Festival in 1940. Under Hurn's direction, the branch provided assistance to over 200 amateur drama clubs (many in rural areas) and sponsored nearly three dozen school and community drama festivals each year. The branch was involved with the Dominion Drama Festival, and was instrumental in the introduction of drama as an elective course in high schools. A quarterly magazine, The Script, was also issued by the branch.
In 1954 "Bunny" Hurn was appointed to the schools inspectorate. At the same time, the School and Community Drama Branch was dissolved and its programmes transferred to the recently-established Community Programmes Branch. Anne Adamson, who had worked in the Office of School and Community Drama for many years, was retained as Drama Advisor. She reported to the Community Programmes Branch director, Lawrence J. (Lawrie) Wallace.
---
Sources:
Patrick A. Dunae, The School Record (Victoria: British Columbia Archives and Records Service, 1992), p. 71.