The Strathcona Trust and Physical Training in B.C. Pubic Schools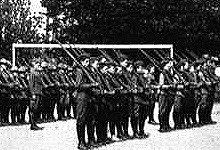 Cadets at Boys' Central School, Victoria, 1918
Until the Second World War, physical education — or, as it was called, physical training — was provided under the auspices of a privately-endowed, semi-autonomous agency known as the Strathcona Trust.
The Trust was established by Lord Strathcona in 1909-1910 with an endowment of $500 000. Lord Strathcona, who was Canada's High Commisioner to Great Britain at the time, was impressed with the Syllabus of Physical Training that had recently been introduced in British elementary schools.
In order to develop a similar regimen in the schools of the Dominion, Lord Strathcona established a trust fund which he turned over to the federal goverment. According to the terms of the trust, the fund was to be used not only to promote physical training but also to encourage the formation of military cadet corps within the public schools. Thirty-five per cent of Strathcona Trust funding was supposed to be allocated to cadet training, fifteen per cent to rifle shooting, and fifty per cent to physical education.
Across Canada, Strathcona Trust funds were administered by local committees established by provincial Education departments. British Columbia accepted the terms of the Strathcona Trust in 1910. Two years later, in 1912, physical education became a compulsory subject in the public schools.
In City and Municipal school districts, calisthenics and other drills were conducted by non-commissioned officers on loan from the Militia Department. The military also loaned instructors to the Normal Schools where teachers were taught physical training according to methods laid out in the Strathcona Trust's Syllabus of Physical Exercise for Schools.
David Wilson, the director of the Free Text-Book Branch, served as secretary-treasurer of the British Columbia Local Committee, Strathcona Trust, from 1911 until his retirement in 1920. He was succeeded by the registrars of the Education Department — J. L. Watson (1920-1943), T. W. Hall (1943-1946) and T. F. Robson (1946-1953).
By Robson's time, very few public schools supported cadet corps and the Strathcona Trust had become an anachronism. Beginning in the 1920s, the rigid militaristic approach to physical training was frequently criticized and by the 1930s most progressive school districts were developing athletic programmes instead of physical drills. Indeed, the high school Physical Education Syllabus of 1933 was a very progressive document. Thus Edwardian physical training as represented by the Strathcona Trust gave way to a more modern physical education in the public schools of British Columbia.
After 1953, Strathcona Trust funds were used to provide scholarships for students enrolled in the Physical Education programme at The University of British Columbia and to assist inter-school sports competitions.
---
Written by Patrick A. Dunae
Sources:
Frank Cosentino and Maxwell L. Howell, A History of Physical Education in Canada (Toronto: General Publishing, 1971); Patrick A. Dunae, The School Record (Victoria: Ministry of Government Services, 1992), pp. 69-70; Edmund Arthur Hunt, "A History of Physical Education in the Public Schools of British Columbia from 1918 to 1967" (M.A. thesis, University of Washington, 1967). See also Don Morton, "The Strathcona Trust in Ontario, 1911-1939," Canadian Journal of Sport and Physical Education, 8 (May 1977): 12-19; and Desmond Morton, "The Cadet Movement in the Moment of Canadian Militarism, 1909-1914," Journal of Canadian Studies, 13 (Summer 1978): 56-68.