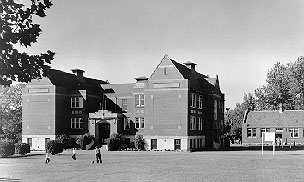 Margaret Jenkins School
1824 Fairfield Rd.
Victoria B.C.
Victoria's Fairfield district developed in the early 1900s when several old family estates were subdivided into residential lots and when the street-car line was extended to Ross Bay. To meet the demands of new families moving into the district, the Victoria School Board built two elementary schools - Sir James Douglas School (1910) and Margaret Jenkins School (1914).
Located on Fairfield Road, near Foul Bay Road, Margaret Jenkins School was designed by a prominent Victoria architect, J. C. M. Keith. During construction, the building was provisionally called "Hollywood School," but just before it was completed in 1914 it was named in honour of Victoria school trustee Margaret Jenkins.
Margaret Jenkins School was built of stone, brick and wood and originally it consisted of just eight rooms. (A separate annex, intended for manual training and domestic science classes, pre-dates the main building by a year. The two room annex -- which can be seen on the right of the picture, above -- served as the schoolhouse until the main building was completed.) Substantial additions to the main structure were made in 1956, 1963 and 1973.
In their survey of school architecture, Douglas Franklin and John Fleming have described Keith's design as "Late Victorian Eclectic." The school has a two-storey elevation with excavated basement and is built on a barbell plan. A building with distinctly vertical proportions, Margaret Jenkins School features two identical wings joined by a central block whose roofline is lower than that of either wing. The wings and central block feature steeply pitched saddleback roofs set slightly lower that the gable ends which form parapet walls. The foundation storey is sheathed in stucco, while the upper storeys have an exterior of English-bond red brick relieved by minor cut-stone banding.
An unsympathetic modern addition has, unfortunately, completely obliterated the original facade of the central block. Even so, the school building is a distinctive Fairfield landmark.
---
Image: Margaret Jenkins School, c. 1949. British Columbia Archives: I-00345. For other pictures of the school see British Columbia Archives H-06800 and British Columbia Archives H-06800.
Reference: Douglas Franklin and John Fleming, Early School Architecture in British Columbia (Victoria: Heritage Conservation Branch, 1980).