Margaret Jenkins
1843 - 1923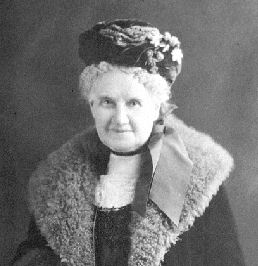 Margaret Jenkins devoted much of her life to the cause of child and family welfare and to promoting new educational programmes in the public schools of British Columbia. This former school teacher and school trustee was also regarded as an authority in household management. Her expertise in that field was based partly on first hand knowledge, for she was the mother and step-mother of no less than seventeen children!
Born Margaret Townsend in Neath, South Wales, she was the daughter of a deacon in the Congregational Church. Her father died when she was eleven years old and at the age of thirteen she was apprenticed as a "pupil teacher." She worked as a monitor or teacher's assistant in a village school in the Mumbles, near Swansea; later, when she had qualified as a teacher, she taught in Pembrokeshire, Wales and in Wiltshire, England.
At the age of twenty she became engaged to a young man by the name of Fox. Unfortunately, we know very little about Mr. Fox, other than he had business interests in the mining town of Coquimbo, Chile. In September 1866 she sailed from Southampton, England to join her fiancé in Chile and soon after they were married. Their first child died in infancy, but in quick succession they had four other children.
Mr. Fox died of an unspecified illness in 1876. His business was insolvent and his widow was destitute. So, to provide for her four dependent children, Mrs. Fox accepted a teaching post in a school for the children of English-speaking families in Coquimbo."
One of the pupils at her school was the daughter of David Jenkins, an English widower who was struggling to raise his family of nine children, the youngest of whom was only two years old. She married Jenkins in 1879 and so became the mother of a "blended family" of thirteen children. Over the next few years, she and her second husband had three more children, making a sum total of sixteen children. Six of the Jenkins children subsequently died from diphtheria.
A war between Chile and Peru prompted the Jenkins family to leave Coquimbo and in 1882 they came to British Columbia. Following a brief sojourn on Salt Spring Island, they settled in Victoria. There Mrs. Jenkins became active in many social reform movements and civic organizations. She was a founding member of the Victoria chapter of the Women's Christian Temperance Union (1883) and later served as vice-president of the provincial WCTU. She was active in the Ladies Aid of the Metropolitan Methodist Church and in the Ladies Auxiliary of the local YMCA. She was a charter and life member of the Victoria Local Council of Women. As well, she was involved with the Welsh Cymrodian Society, the local Women's Conservative Club and the Victoria chapter of the Women's Canadian Club.
She was keenly interested in the public school system. First elected as a school trustee in 1897, she served on the Victoria School Board continuously from 1902 to 1919. During these years she promoted many new educational programmes. In 1903 she helped to establish the first domestic science centre in a British Columbia public school. Located in Girls' Central School, Victoria, the centre was equipped with funds raised by the Local Council of Women and the Victoria branch of the WCTU. She was also instrumental in securing a place for domestic science -- later known as home economics -- in the provincial public school curriculum.
In recognition of her contributions, the Victoria School Trustees voted to name a new elementary school in her honour. Margaret Jenkins School, in Victoria's Fairfield district, was completed in 1914. It was the first public building in Victoria to be named for a woman.
In a newspaper interview in 1921, Mrs. Jenkins looked back on her many accomplishments and reflected on her interests and priorities. "If I had my life to live over again," she said, "I would not change my estimate of the value of the child and the child's welfare....The child is the citizen of the future and no asset is so valuable to Canadian life as the potential adult which is to be the nation of the future."
Margaret Jenkins died in Victoria at the age of eighty on 7 June 1923. She is buried in Victoria's historic Ross Bay Cemetery, just a few blocks from Ecole Margaret Jenkins School.
---
Written by Patrick A. Dunae, with research assistance from Education History students at Vancouver Island University and the University of Victoria.
---
Sources: Lyn Gough, As Wise As Serpents: Five Women & an Organization that Changed British Columbia, 1883-1939 (Victoria, B.C.: Swan Lake Publishers, 1988); Barbara Latham and Cathy Kess (eds.), In Her Own Right. Selected Essays on Women's History in B.C. (Victoria, B.C.: Camosun College, 1980); Victoria Daily Colonist (16 October 1921) and (7 June 1923).
Image: British Columbia Archives I-00345.
---